Landscape Irrigation
Precision Irrigation
Swiss innovation for water-smart landscape irrigation
After 20 years of R&D and worldwide implementation, AQUA4D® technology has a proven track record for increasing water efficiency and soil health in irrigated agriculture. Now this success is being replicated in landscape and turf irrigation.
During periods of droughts, urban green areas and sports fields are often the first victims of water cutbacks. Thanks to this Swiss water treatment technology, soils can stay moist for longer – significantly reducing irrigation requirements.
Supported by the latest 4.0 measurement tools, this Technology-as-a-Service (TaaS) cuts irrigation frequency by an average of 20%, ensuring urban areas stay green while optimizing resource use.
Contact us to speak to a team member near you.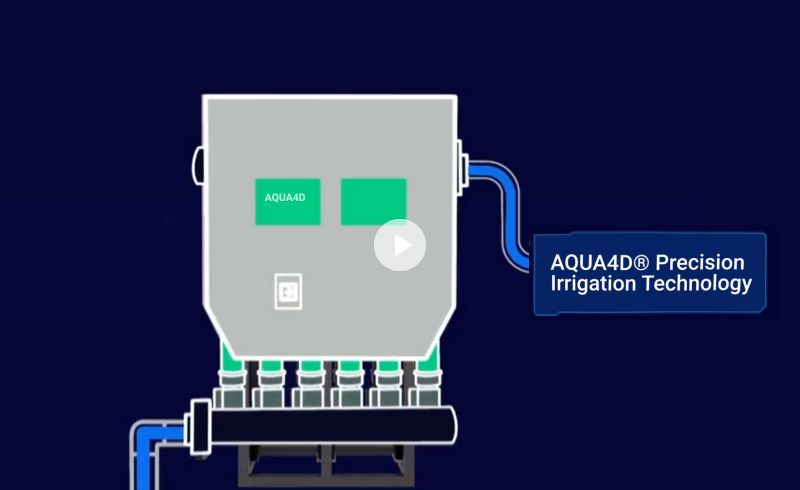 Sustainable Solutions
Leveraging Cleantech to Regenerate Soils and Save Water
AQUA4D® addresses the most pressing problems facing agriculture: water scarcity and land degradation. Our team of experienced agronomists help growers tackle a wide range of water management problems. Soils stay moist for longer, while minerals and fertilizers in irrigation water are better hydrated and dissolved. Growers in 40+ countries achieve the seemingly paradoxical: higher yields with less resources, while solving a range of persistent problems.
Contact our team today to see how we can overcome your issues.
AQUA4D® F-A Pro 40M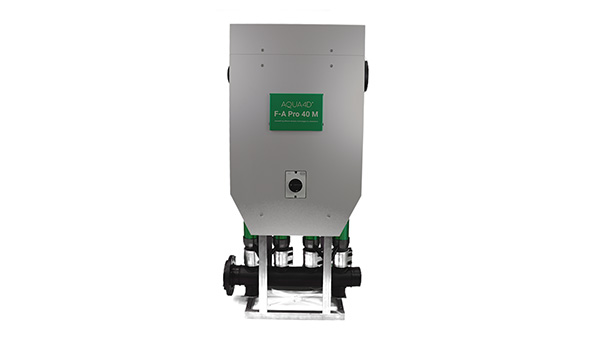 Technical Specifications
Swiss Made,
Swiss Quality
Very low power consumption (<10W)
IP65 protection
standards
Up to 10 bars
of pressure
Modular design, unlimited flow rate (21.6 m³ / TU)
Robust cabling and aluminium casing
Precision Irrigation
Sustainable Transformations at OGC Nice Through Precision Irrigation
"When I arrived in Nice, there were some real issues with water and grass plant health," Brooks remembers. "We had 3.5 natural pitches and weren't getting the water where it needed to go, as well as issues with hydrophobic soils, high pH and salinity. I needed to solve all this while using less resources in the process."
AQUA4D® technology reduces the size of water clusters to improve penetration into soil or substrate micropores. The same water treatment also more efficiently dissolves minerals and nutrients, which then positively impacts plant health.
"With AQUA4D I've noticed a real improvement in water efficiency across the site and I really feel we're getting the water where we need to get it – in the root zone. This means healthier grasses and a better-quality pitch," observes Scott Brooks.
"It's not just using less water, it's the efficiency," says Brooks. "It's reduced watering timings but we're also getting more benefits in terms of what's going onto the pitch because we can get the water into the soil easier. It's just efficiency squared – using less resource and getting the same or better output."
Watch an interview with Scott Brooks here
Contact us to speak to a team member near you.
Sample installation
1. Basin
2. Pump
3. Filters
4. Fertilizers
5. AQUA4D® F-A Pro M
6. Sports Field/Stadium
7. Golf courses, Green Areas, Parks
"Once we crunched the numbers, water usage was 40% less, crops out 20% quicker, and less fertilizer. The whole thing that you 'make water wetter', it's true."
Scott Brooks,
Head Groundsman, OGC Nice
"We now have no more dead grass spots because the AQUA4D® system creates smaller water clusters, so they get into the smallest pores in the soil. We are pleased with the beautiful green turf this summer – it really is a picture."
Wouter Uitentuis,
AZ Alkmaar Football Club
"All the trees getting natural colors and better growth. We see some benefits, we are using less chemicals, means less fertilizers. We are putting less nitrogen on the grass, now the grass can get more nutrients."
Ahmet Cagil,
Antalya Golf Club
The AQUA4D workflow
Our services include
Preliminary data and streamlined questionnaires
Evaluation and feasibility analysis, followed by technical approval
Commercial offer with delivery time and cost
Development of measurement protocols and monitoring processes
Procurement, delivery and technology implementation
Installation guidelines and technical datasheets
Monitoring and follow-up
Results presentation and analysis
Maintenance (if required) after project completion.
Engineers
Analysis
Measurement
Protocol
Technology
Implementation
Monitoring &
Follow-up
Evaluation &
Results