Sustainable Buildings
Sustainable protection of water systems
Ecological and economical water treatment for use in all types of buildings
AQUA4D® technology solves some of the most persistent problems in water systems, including limescale, corrosion and biofilm – all without chemicals and without costly maintenance. With seamless integration into existing systems, the effect is not only curative but also preventive: AQUA4D® is a powerful and lasting solution.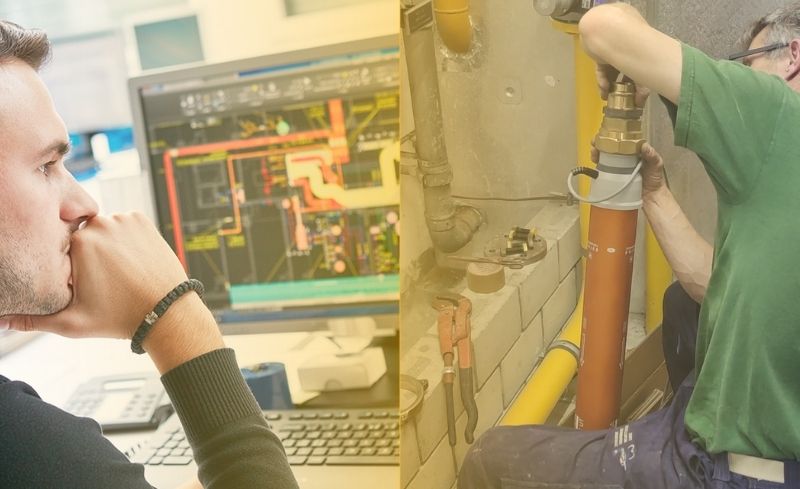 By experts, for experts
Technology as a Service (TaaS) for Sustainable Buildings
Our technical consultants work daily with the plumbing designers and the installation companies.
We make sure that every detail is thought of in your projects with AQUA4D.
Strong Swiss collaborations
Approved by public organizations and local municipalities
Institutions such as the Swiss Climate Foundation and the European Commission have recognized our technology as exemplary, as has the Canton of Valais, which has recommended the use of the system in all municipal buildings. Use of AQUA4D® also supports environmental certification processes (LEEDs, Green Building Council, etc.).
Innovative cleantech solutions
Simultaneous resolution and prevention of various problems
The use of AQUA4D® means less need for softeners, less replacement of old water pipes, and no more harmful chemicals entering water systems.
Monitoring tube
A. New pipe section made of the same material: serves to monitor the preventive effect of AQUA4D® (prevention of new deposits).
B. Old pipe section from the existing line with incrustations: serves to verify the gentle breakdown of deposits by AQUA4D®.
Simple efficiency monitoring
Clever "Monitoring Tube" verifies efficacy
AQUA4D recommends the installation of one or more Monitoring Tubes to be able to check the effectiveness of the water treatment at any time. This consists of a removable piece of piping installed in the existing system. This means a quick check can be made at any time to verify the AQUA4D® system's effects, without needing to flush the pipes or take anything apart.
Technological comparison
An array of economic and ecological advantages
Water softeners
Mechanical cleaning
Water quality
Curative effect
Preventive effect
Without chemical products
Water mineral balance & taste
Less maintenance & consumables
Less space requirement
Long-term ecological impact (10+ years)
Reliability with variable water sources
Positive effect on health
Groundbreaking technology, seamless integration
Effective over multiple kilometers
AQUA4D® technology works with any type of water – chemical composition and degree of hardness make no difference. Equally, the results are achieved with all types of piping, regardless of the material (e.g. steel, copper or plastic). Crucially, the effectiveness of AQUA4D® can be proven over several kilometers of piping.
AQUA4D Sustainable Buildings: Product Range
Our products
Our product range for buildings consists of the following modules:
F Pro Control Unit (CU)
The "brain" of the system, generating the specific resonance signals and constantly monitoring the proper operation of the system.
TU 60G-B Treatment Unit
(Ideal for smaller buildings and houses, flow rate up to 60 l/min, 3.6 m3/h per unit)
TU 360G-B Treatment Unit
(Ideal for public buildings, hotels, industrial buildings, etc., flow rate up to 360 l/min, 21.6 m3/h per unit)
The Treatment Unit (TU) distributes the resonance fields generated by the Control Unit (CU). For very high flow rates, the Treatment Units are mounted in parallel to cover the entire flow rate to be treated.
The systems can treat any flow rate, and simultaneously treat cold and hot water pipes including boilers, by means of a sophisticated modular concept.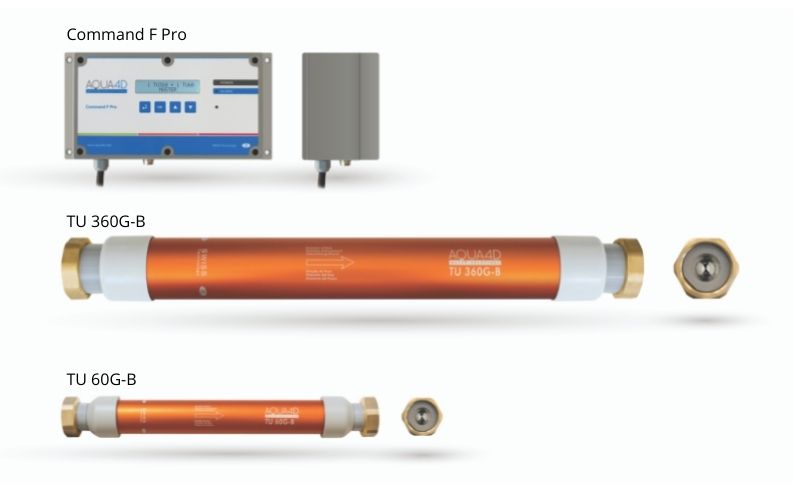 "Thanks to the AQUA4D® Monitoring Tubes downstream we can not only demonstrate the problem, but also the solution: efficient and sustainable."Walter K. Thut, Co-Inventor, AQUA4D